OptiBlocks fiber optic rapid prototyping system enables easy construction of in vivo / in situ fluorescence monitoring Fluorometer or reflection monitoring Reflectometer. The basic Fluorometer system comprises Light Source Unit, Detection Unit, Driver Electronics and Analog to Digital (A/D) Digital to Analog (D/A) converter that enables PC based data acquisition and system control through convenient USB connection. The measurement is performed by a fiber optic bundle probe that comprises at least one excitation and one collection fiber. For optimal performance several fibers should be used. Please see our fiber optic custom fiber optic assemblies services page for few examples of such probes.
The Light Source Unit can comprise one or several LED OptiBlocks. The LED OptiBlock enables an easy insertion of interference or dichroic filter into the optical path in order to suppress the normally present red tail of most UV and Blue LEDs. Optionally a pigtail LED can be utilized as an excitation light source. The specific light source should be chosen according to the application. The Detection Unit can feature one or several Detector OptiBlocks. The Photodiode OptiBlock can be used for example in reflectance measurements when relatively high light intensities are expected. In fluorescence measurements the photomultiplier tube (PMT) PMT OptiBlock is more useful due to much higher PMT sensitivity relatively to the photodiode. If several detectors are used for multi wavelength detection the collected light should be divided between the detectors by a dichroic beam splitter.
The dichroic beam splitter makes it possible to separate the relatively short wavelengths from the longer ones. For example blue light can be reflected while the green light being transmitted thought the dichroic beam splitter. In most cases additional filtering of the signal by interference filter is advantageous. In most cases additional signal filtering by interference filter is advantageous. The dichroic beam splitter and interference filters can be easily installed in the Beam Splitter OptiBlock.

Below you can find several examples of Fluorometer / Reflectometer systems build from the OptiBlocks. We offer the building blocks of such systems for Do It Yourself (DIY) assembly. Alternatively we offer custom assembly of Fluorometer / Reflectometer or any other type system based on OptiBlocks tailored to your specific application. The multiwavelength Fluorometer applications include in vivo tissue fluorescence monitoring, microscopy, tissue optics research, fiber optic sensor development, Biophotonics, biomedical research and numerous others.
Example #1: Multi wavelength Fluorometer
The Light Source unit is comprised of LED Light Source OptiBlock module (1) connected to Fiber Coupler OptiBlock module (2). In one of these modules an optional optical band pass interference filter or dichroic low pass filter can be installed in order to suppress the red tail of LED emission band that may interfere with the fluorescence measurement.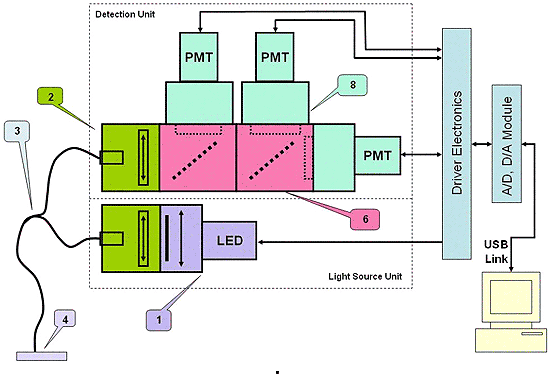 The probe (3) is a Y shaped fiber optic bundle that delivers the excitation light from the light source fiber coupler (2) to the test object (4), collects the fluorescence and reflection light from the test object and delivers it to the detection unit fiber coupler (5).

The Y shaped fiber optic probe is fiber optic bundle assembled from one excitation multimode fiber surrounded at the distal tip by several collection multimode fibers. At the proximal side the fibers are terminated with standard optical SMA connectors.