The Prizmatix CombiLED is a multi-channel single-output Fiber-Coupled LED source. CombiLED light engine combines, by dichroic mirrors, multiple high-power collimated LEDs, into a single output. The output can be customized to be multimode fiber, a fiber-optic bundle, or a liquid light guide, making the device ideal for a wide range of scientific applications.
The CombiLED enclosure is equipped with active cooling, high-current LED drivers, and control electronics with 12Bit DACs. An internal microcontroller enables system control and USB connectivity. The Multi-LED-Control software is available for both Windows and Mac operating systems. Users who wish to develop custom software can utilize the available software API. Examples of code for LabVIEW, LabWindows/CVI, C++, C#, MATLAB, and Python are available upon request. In addition to USB control, CombiLED can be ordered with TTL and Analog inputs for each LED channel. The fast TTL input enables such use cases as precise synchronization of the LED's "ON" state with the camera or external microcontroller while the Analog input allows for control of the output power from sources such as function generators.
The modular internal design of the product enables easy customization of LED wavelengths to meet specific customer requirements. With the flexibility to choose from a wide range of LED wavelengths, brightness levels, and chip types, users can create tailored solutions to fit their needs. Additionally, the online LED-Spectra-Viewer is a helpful tool for simulating the CombiLED optical system design, including compatibility of filters and dichroic mirrors with the optimal LED sources. This online tool allows for the creation of a truly customized solution for various scientific LED applications.
---
Key Features
A single 19-inch (or ½) rack enclosure can accommodate 3 to 8 High Power LEDs.
The output can be configured as a single multimode fiber, 7-branch fiber optic bundle, or liquid light guide.
High Power UV, Visible, and NIR LEDs are available.
LED-Spectra-Viewer allows for the simulation and optimization of LEDs, dichroic, and bandpass filters.
Isolated TTL and Analog Inputs for each channel, are optional.
Precise control from the computer via USB by 12-bit DAC (4096 levels).
Prizmatix Multi-LED-CTRL software is avalible as an Application running on Google Chrome browser for Mac or Windows.
For Windows users desktop application is available.
---
CombiLED Spectra Viewers
The LED-Spectra-Viewer is a powerful online simulation tool that allows users to simulate complex multi-wavelength systems that are coupled through fiber or light guides.We provide a range of templates for CombiLED multi-wavelength systems to simplify the process of designing and implementing these systems. These templates are designed to help streamline the system setup process and make it more efficient.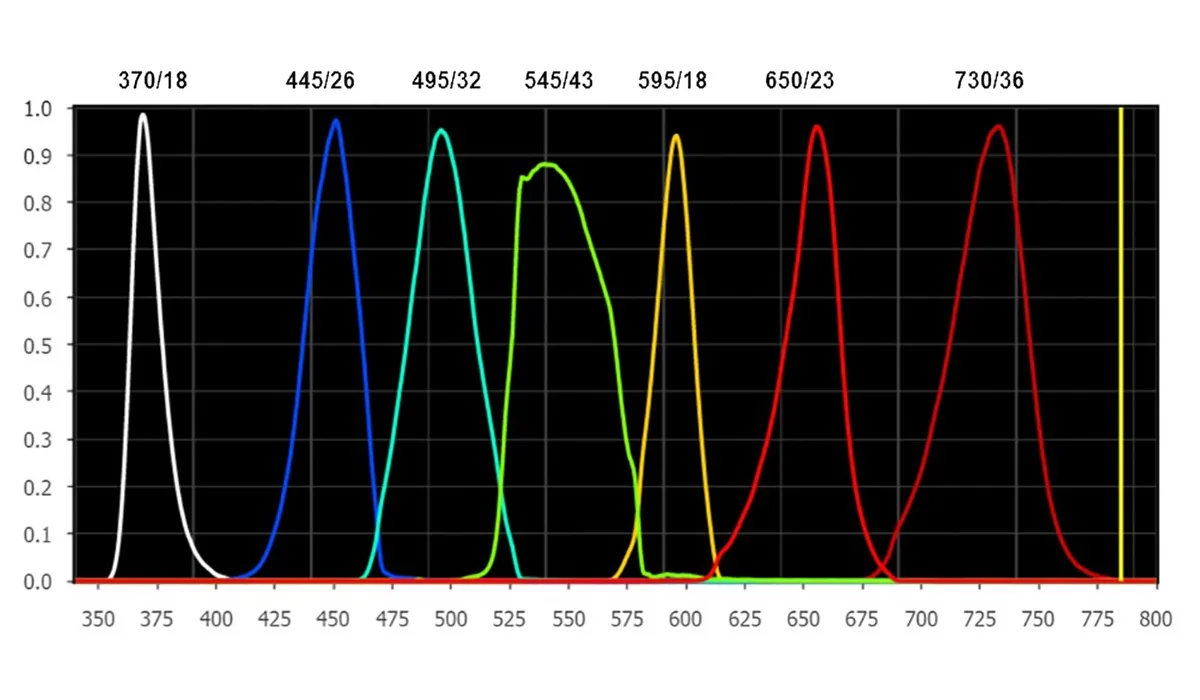 To begin the CombiLED design process, simply click on the link above, and select the most appropriate template for your multi-channel system.You will be able to change LEDs, dichroic mirrors and introduce bandpass filters where needed. If you need assistance, please don't hesitate to send us your initial design (use the "Share this Page" link at the bottom of the page) and we will be happy to help you with the process.
CombiLED is a system with a fixed end-user configuration. If you require a modular system that is configurable at the end-user lab, we recommend reviewing the Prizmatix modular systems . These modular systems offer greater on-site flexibility and can meet your evolving future needs.
---
Optical Specifications
| | |
| --- | --- |
| Optical output | Multi-Mode Fiber or Lightguide (2, 3, 5 mm) |
| Optical output connector | SMA / FC / Lightguide adaptor |
| Output power | Depending on LED configuration |
---
Electrical Specifications
| | | |
| --- | --- | --- |
| Connectors for TTL and Analog Input | | Optically isolated BNC |
| Digital modulation (TTL Input 0-5V) | Hz | DC-20000 |
| Analog modulation (Analog Input 0-5V) | Hz | DC-100 |
| Analog power control | % | 0-100 |
| USB Digital control (DAC) | Bit | 12 (>4000 levels) |
| Input Voltage | V | 12 |
---
General Specifications
Operation temperature range
°C
10-35
Storage Temperature range
°C
-10-55
Operating relative humidity
(Non condensing)
%
<90
Enclosure
19" Rack
Power adaptor safety
---
Ordering Information
Item Description
P/N

CombiLED-XX

High-Power Multi-Wavelength Fiber Coupled LED Light-Engine


WL1-WL2-…-WL?

– LED wavelengths
XX – Specify output connector: SMA / FC / LG2/ LG3 / LG5
Power adaptor is included - see below


Optical Fiber or Lightguide is not included - see below.

CL-

WL1-WL2-…-WL?-XX

High NA Optical Fibers:

Core: 200um / 250um /500um / 1000um / 1500um
NA: 0.5 or NA: 0.63.
Length: 0.2m - 2m
Connectors: SMA or FC

Please specify requirements

USB interface to control CombiLED from Windows software like uManager etc. LabVIEW, Python and other example control code is available.
Cable included.

CL-USB

RS232 interface to control CombiLED from Windows software like uManager etc. LabVIEW, Python and other example control code is available.
Cable included.

CL-RS232

Ø1 inch Fiber collimator for High NA fibers up to NA=0.53

FCM1-0.5

Ø0.5 inch Fiber collimator for High NA fibers up to NA=0.53

FCM05-0.5

Ø1 inch Fiber collimator for High NA fibers up to NA=0.63

FCM1-0.6

Ø1 inch Focuser to be used with FCM1-0.X fiber collimator.
Please specify requirement

FOC1

Liquid Light Guide Core 2 mm, Length 1.5m

LLG-2

Liquid Light Guide Core 3 mm, Length 1.5m

LLG-3

Liquid Light Guide Core 5 mm, Length 1.5m

LLG-5

XYZ adjustable Collimator for LLG-3 Light Guide.
Please specify N for Nikon / O for Olympus / Z for Zeiss / L for Leica microscope type

LLG3-CXYZ-

Type


(Type = N / O / Z / L)

XYZ adjustable Collimator for LLG-5 Light Guide.
Please specify N for Nikon / O for Olympus / Z for Zeiss / L for Leica microscope type

LLG5-CXYZ-

Type


(Type = N / O / Z / L)

Collimator for 3mm core Liquid Light Guide (LLG-3), 1 inch output.
No XY adjust.

LLG3-CM1

Collimator for 5mm core Liquid Light Guide (LLG-5), 1 inch output.
No XY adjust.

LLG5-CM1