The UHPTLCC controllers compatible with any of the five product lines of Prizmatix Ultra-High-Power collimated LEDs: UHP-T-EP, UHP-T-SR, UHP-T-DI, UHP-T-LA and UHP-T-MP.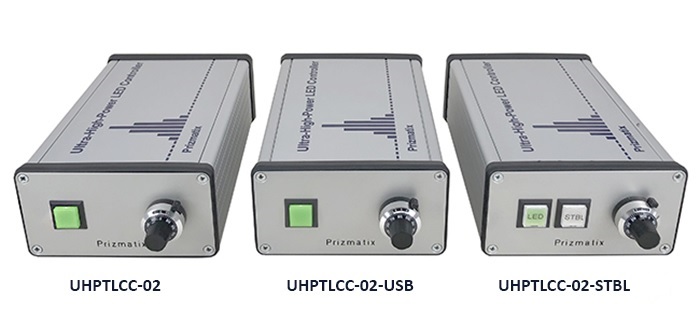 UHPTLCC-02
UHPTLCC -02-USB
UHPTLCC-02-STBL
Basic:
Analog LED controller for basic control functions.
USB Computer Interface:
Digital LED controller enabling control from computer via USB and power monitoring by digital photodiode.
Stabilized:
Digital controller with power stabilization by photodiode and PID algorithm.
Remark: UHPTLCC-02 is advanced version of UHPTLCC Legacy controller.
Any UHP-T series LEDs can be used with any UHPTLCC-02 series controller. Advanced high current driver is embedded within the shielded LED head, not in the controller box. The UHPTLCC-02 controller contains all control interfaces and functions.
This split arrangement allows direct mounting of LEDs on sensitive equipment while eliminating virtually all RFI / EMI interference common in high current light sources.
All BNC connectors for TTL and Analog inputs are Optically Isolated to prevent ground loops interference at data recording.
Features
UHPTLCC-02
UHPTLCC-02-USB
UHPTLCC-02-STBL
LED Power Control
10 turn potentiometer with dial and latch
Analog Circuitry
X
X
Digital 12Bit DAC (4096 steps)
X
Computer Control, on/off & power level
X
Logging and plotting of digital photodiode measurements
X
PC software control by 3rd party software (Matlab, uManager, LabVIEW) ASCII Terminal Commands
X
Application programming interface (API) for
LabVIEW, MATLAB, Python, VB, C++ and others are available
X
Reference Photodiode (on LED head)
X
Optional
Required
Control Inputs
UHPTLCC-02
UHPTLCC-02-USB
UHPTLCC-02-STBL
Opto Isolated TTL Input
Light On/Off Control
Opto Isolated Analog Input
Light intensity Control
(0-5V)
X
X
USB Input (Type B)
X
Reference Photodiode input
X
LED Power Stabilization
X
X
Ultra-Low-Noise Option
Not in stabilized mode
Remarks:
(1) Optically Isolated TTL input levels are:
LED On: 3.0V to 5.0V
LED Off: below 1V
(2) Analog Input (0 to +5V) can be useful for LED power control from external DAC such as NI-USB-6001.
---
General Specifications
| | | |
| --- | --- | --- |
| Operation temperature range | °C | 10-35 |
| Storage temperature range | °C | -65 |
| Operative relative humidity (Non-condensing) | % | <90 |
| UHPTLCC-02 dimensions | | See drawing below |
| UHPTLCC-02 weight | g | 430 |
| Power Adaptor Dimensions (L x W x H) | mm | 167 x 67 x 35 |
| Power Adaptor Safety | | |
---
Drawings
UHPTLCC-02: Analog LED Controller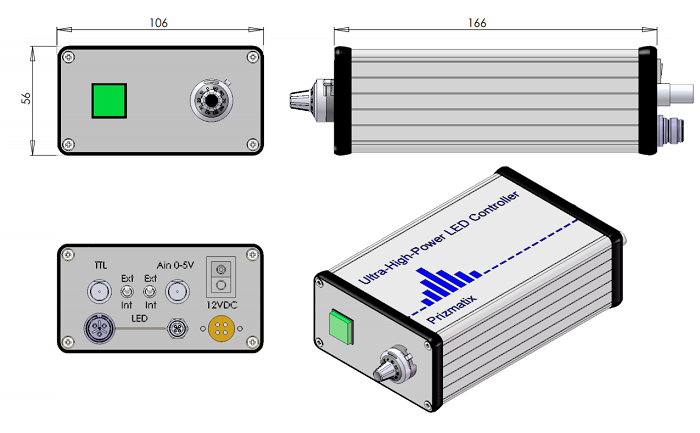 Click to see more
---
UHPTLCC-02-USB: Digital LED Controller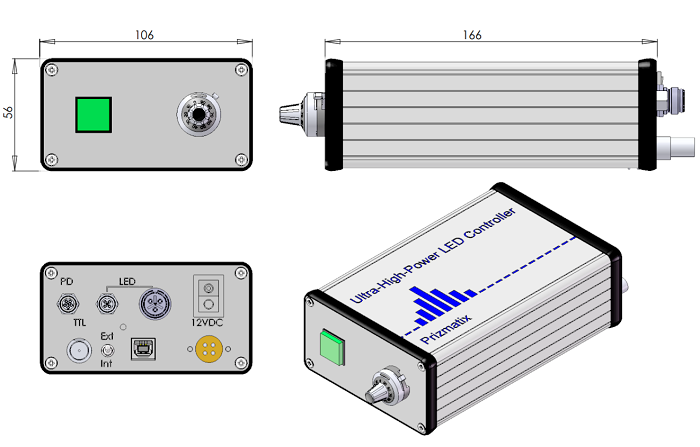 Click to see more
---
UHPTLCC-02-STBL: Digital LED Controller with Power Stabilization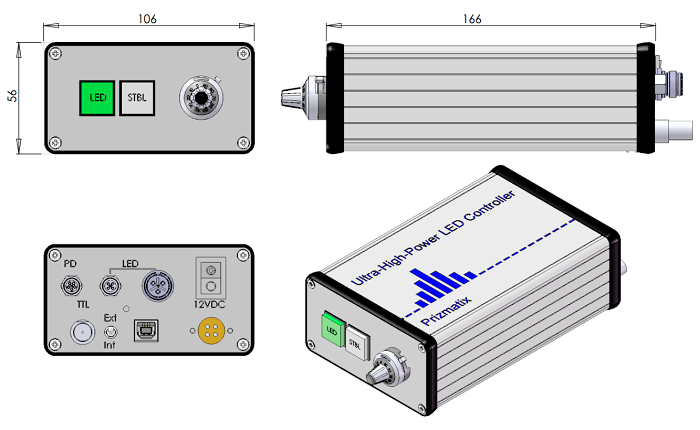 Click to see more