The Prizmatix Optogenetics-LED-Blue module is specially designed to provide high power Blue light (~460nm) to activate Channelrhodopsin (ChR1, ChR2) in optogenetics experiments with freely moving mammals. This LED source provides powerful light irradiance of >380 mW/mm² at fiber implant tip following all fiber-optic connections including Rotary Joint.
Prizmatix unique Optogenetics-LED design enables optional bilateral activation with a single LED and standard rotary joint for significant cost saving and without compromising power at fiber optic canula tip.

Optogenetics-LED-Blue

Optogenetics-LED-User-Manual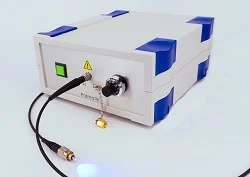 Click to enlarge
---
Key Features
High Power density (>380 mW/mm²) at cannula's fiber tip following all connections
Unique large LED enables bilateral illumination with single LED and rotary joint for significant cost saving and without compromising power at implant tip.
Extremely low torque LED-compatible rotary joint suitable for even the smallest animals
Precisely adjustable power by 10 turns potentiometer
TTL and Analog Inputs are Opto-Isolated to eliminate ground-loops
Analog input (0-5V) for power control
Instant warm up time
---
Some Research Papers with Reference to Prizmatix's Blue LED...
---
Optogenetics Toolbox for Freely Moving Mammals Experiments
Prizmatix offers a wide range of standard and customized items comprising the Optogenetics Toolbox. The most useful items for optogenetics experiments in freely moving mammals are: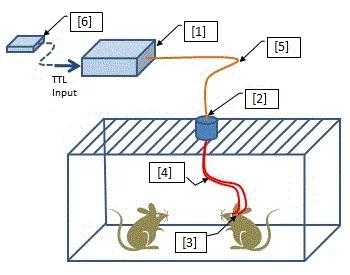 ---
Optical Specifications
| | | |
| --- | --- | --- |
| Wavelength | nm | 460 |
| Peak wavelength range | nm | 450-465 |
| Spectrum half width | nm | 27 |
| Optical Power from 200µm NA0.66 fiber (1m) | mW | >23 |
| Optical Power from 250µm NA0.66 fiber (1m) | mW | >34 |
| Optical Power from 500µm NA0.63 fiber (1m) | mW | >125 |
| Optical Power from 1000µm NA0.63 fiber (1m) | mW | 550 |
| Optical Power from 1500µm NA0.63 fiber (1m) | mW | 1000 |
Optical power and irradiance data for full Optogenetics system including Optogenetics-LED-Blue, fiber patch cord, Rotary Joint, Dual / Single fiber and fiber optic cannula (implant):

Optical Power from 200µm cannula
mW
>12
Optical Power from 250µm cannula
mW
>20
Optical Power from 500µm cannula
mW
>80
Irradiance from 200µm cannula
mW/mm²
>380

---
Idea!!!

Prizmatix's unique large emitter LEDs enable bilateral stimulation with a single low cost light source and simple one channel rotary joint. Using a simple Y-shaped fiber bundle at the rotary joint will double the amount of light delivered to the brain each branch delivering virtually the same power as a single fiber. This results in significant cost saving in setting up bilateral brain activation and silencing systems, compared to alternative light sources.
---
Idea!!!

Want to do implant (cannula) by yourself? We offer DIY cannula components such as high NA fibers and ceramic ferrules for online purchases. Please visit:
---
Electrical Specifications
| | | |
| --- | --- | --- |
| Digital modulation input | &nbsp | Optically isolated TTL |
| Connector for TTL and Analog input | | BNC |
| Digital modulation frequency | Hz | DC-30000 |
| Rise / Fall time (10% - 90%) | µs | <10 |
| Analog input voltage range | V | 0-5 |
| Input Voltage | V | 12 |
| Power Adaptor Input | | 85-264 VAC, 47-63Hz,1.5A |
---
General Specifications
Operation temperature range
°C
10-35
Storage Temperature range
°C
-10-35
Operating relative humidity
Non condensing
%
<90
Dimensions (L x W x H)
mm
197 x 174 x 80
Weight
g
750
Power Adaptor Dimensions
(L x W x H)
mm
125 x 50 x 31.5
Power Adaptor Weight
g
270
Power Adaptor Safety

Fan Noise
dBA
28.4
---
Optional Accessories
For more details on optional accessories please see:
https://www.prizmatix.com/Optogenetics/Prizmatix-in-vivo-Optogenetics-Toolbox.htm
---
Prizmatix Rotary Joint is especially designed for Optogenetics experiments with High NA fibers equipped with FC connectors. Rotary Joint very low friction and smooth swivel operation are demonstrated in this video - showing continuous rotation for over 30 seconds after a fingertip startup. The torque required for free movement is very low thus reducing the Rotary Joint's behavioral effect on freely moving animals.
Prizmatix Rotary Joint can be used with large core input optical fiber connected to several thin output fibers simultaneously. This allows concurrent delivery of light to separate areas of the brain without loss of power due to the fiber split.
See Rotary Joint product details

Rotary Joint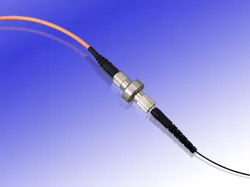 ---
Prizmatix Implantable Fiberoptic Cannulae / Ferrules allow direct light stimulation of certain deep brain regions in living animals. Each Cannula consists of a Zirconia ferrule accommodating a high NA Silica optical fiber, protruding from the Zirconia ferrule at a desired length.
See Optogenetics Implantable Cannulae product details

Cannula
---
Prizmatix provides a full solution to the optogenetics in vivo and in vitro fiber optics. Made of silica or polymer fibers, the high NA fibers are assembled to fit any research set-up with various combinations of connectors, ferrules, core diameters and lengths. Some examples are Y-shaped fibers for simultaneous in-vivo stimulation of two hemispheres, and fibers with stainless steel tip with protruding bare fibers for in-vitro activation of brain slices under a microscope.
See Single/Dual Fibre product details




Fiberoptics for Optogenetics
---
Prizmatix offers a wide range of standard and customized multi-mode silica / polymer fibers as well as ferrules for optogenetics research. A Y-shaped fiber bundle is especially useful for activating two brain hemispheres simultaneously: a 1000µm or 1500µm fiber is coupled to the LED and connected to one side of the Rotary Joint. From the Joint's other side emerge two thin fibers which can then be connected to two separate ferrules: the light from the LED is divided equally between the two hemispheres without any loss of power.
---
Optogenetics Pulser is a programmable TTL pulse train generator for pulsing LEDs, lasers and shutters used in Optogenetics activation. The Pulser device comes with user friendly software that enables easy visual setup of numerous pulse train configurations. See Pulser product details

Pulser